I finished the bear hat (both versions) last night. After I finished, Justin and I went to the local dive bar to see our friends, the
Magi-Kool Doods
, play. I wore the dark brown bear hat. The bouncer complemented it.
While I was at the pub, I delivered a hat made for C. A cute little black/ charcoal/ purple stripe hat.
Thanks to Brennan for modeling every single hat ever
This morning I brought the hats to the farmers market to show Jane. She tried on the bear hat right away.
Jane runs the
Yolo Wool Mill
. She spins all the yarn and the bear hats are made of. It only took two skeins to make the two hats. (I almost ran out of the dark brown, but made it with a few yards to spare.) Jane sells all sorts of neat fiber related things at her booth.
Some Merino sheepskins for sale
I love looking at (and touching) all the yarn. I couldn't help myself this week. I bought two more skeins to make more bear hats. You know... so I can check my pattern.
Later on Brennan and I did a photo shoot with the bear hats.
I set up the tripod because we were losing light. As a result, when I flipped through the pictures, they started looking like an animation.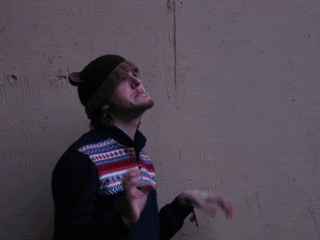 I couldn't help myself. I ended up making a few animation in photoshop. The images were too funny.